Bottom-Up Window Blinds and Skylight Shades: Part 1 - Component Layout
The following picture shows the motorized ShadeSlider™ system as it arrives from our fabricaton plant (with the protective bubble-wrap removed). This particular unit is the smallest width we manufacture although the height can be shorter. (19.7 inch - 50 cm x 19.7 inch - 50 cm):
WIDTH: Minimum: 19.7 inch (50 cm) Maximum: 59.06 inch (150 cm)
HEIGHT: Minimum: 11.8 inch (50 cm) Maximum: 98.0 inch (249 cm)
FRAME DEPTH: 1 7/8 inch (4.76 cm)

Here are the component parts laid out: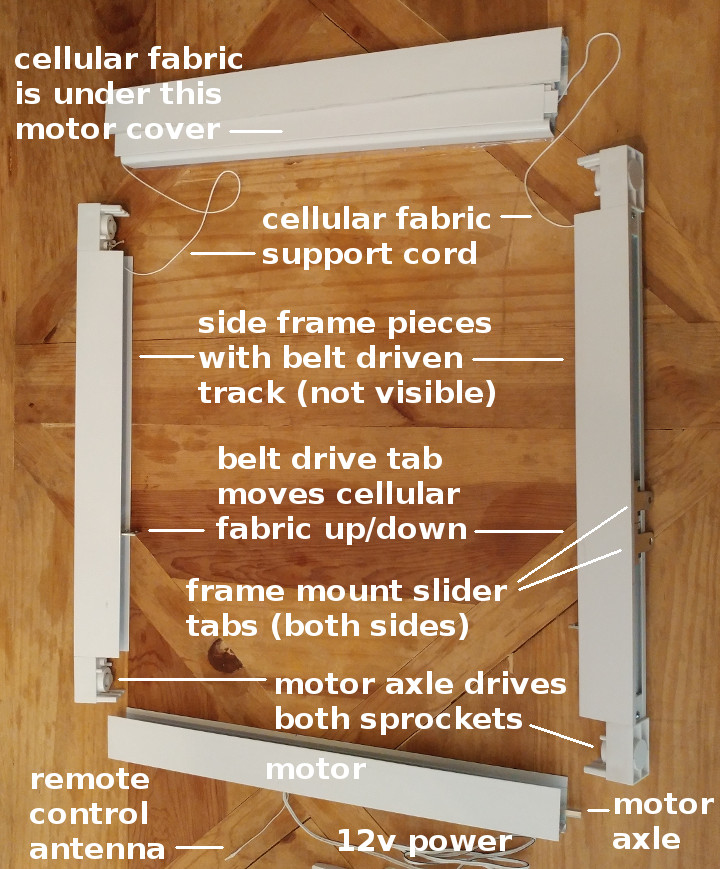 The ShadeSlider™ Low Voltage 12v DC Motor Drive System
Please Note re Above Picture: If you look at the top of the picture, it makes note of the fact that the cellular fabric may be concealed by two different cover plates. One of them is the motor cover plate. This cover plate is used to slide into the BOTTOM section where the motor is. It is placed at the top only for shipping purposes, so you can remove it to reveal the second cover plate. The other (narrower) cover plate snaps in to cover the cellular cord support director wheels, as shown in the second picture below.
This next picture shows how the BOTTOM motor cover slides into the frame to cover the motor: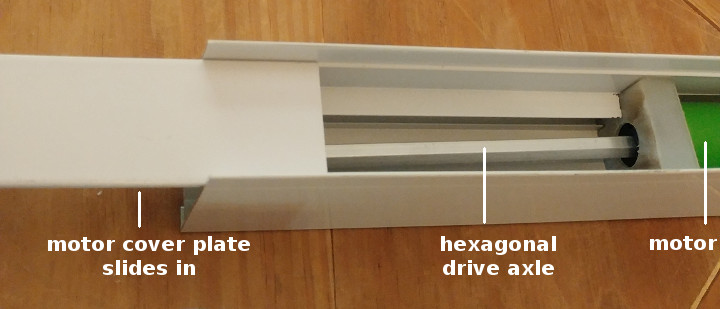 Here is the second (narrower) cover plate that snaps into the hem bar to conceal the support cords for the cellular material that prevent sag; note that (as stated in the picture) the hem bar is the actual moving part that expands (for closing) the cellular material: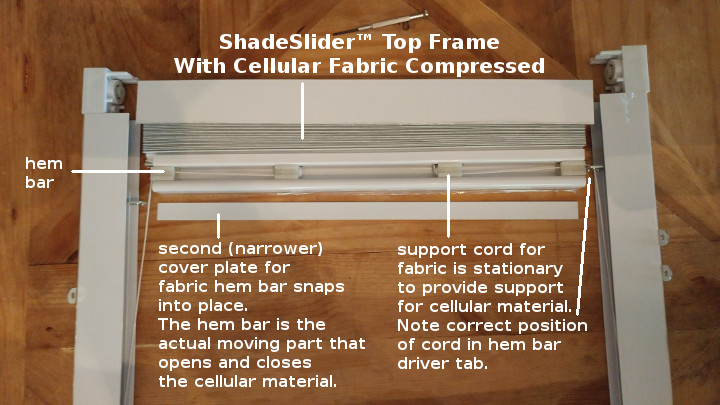 The 12v DC motor is housed in the bottom frame section and drives both the left and right hexagonal drive shafts. These drive shafts apply power to the belt drives that are encased in the left and right frame members.
Using Screws for Mounting the Frame
PLEASE NOTE: One of the main improvements in our Series II ShadeSlider™ are the 2 sliding tabs (2nd picture above) for mounting the frame in your skylight or window. There are some long screws provided for this purpose; the shorter screws are for fastening the frame sections together.
We sincerely hope you enjoy using these advanced motors; if you have any questions or require pricing, please feel free to contact us at any time!
Articles in this series:
Part 1: ShadeSlider™ Bottom-Up Blind & Skylight Shade: Component Layout, Motor Drive System (you are here)
Part 2: ShadeSlider™ Bottom-Up Blind & Skylight Shade: Cloning Motor to Existing Remote
Part 3: ShadeSlider™ Bottom-Up Blind & Skylight Shade: Frame Assembly, Drive Shaft Setup