Skylight Shades and Bottom-Up Window Blinds: Introduction
ShadeSlider™ is the brand name for our retractable skylight shades and bottom-up window shade systems. Please see our price calculator for pricing information.
These remote control skylight and bottom-up window shades for residential and commercial applications can be controlled with our wireless wall remotes or by phone, tablet and laptop with our BroadLink™ hub.
We also have Z-Wave interfacing, so you can use these units with hubs like SmartThings, Vera, Wink, Alexa, etc.
Available now, the radio controlled ShadeSlider™ system has an energy efficient 12v motor that also works well in motorhome and RV applications, especially for bottom-up window treatments. We provide 110/220v AC/DC power supplies for home applications.
The unit shown in the video above is about 23.5 inch (60 cm) x 39.25 inch (100 cm); it demonstrates how the cellular fabric compresses and expands as the material is stretched across the opening.
The ShadeSlider™ comes complete with cellular material, motor, remote control (compatible with our blind, shade, drapery and window opener motors), AC/DC power supply, and aluminum frame cut to your dimensions.
ShadeSlider™ Features
Works at any angle, horizontal or vertical
Scalable design handles wide range of skylight or window sizes
Use in RV and motorhomes, boats, travel trailers, etc (has safe, low voltage 12v DC motor)
12v motor can be powered by small external battery with solar charging
Available with

full blackout

cellular material, or partial light blocking
ShadeSlider™ units can be

ganged together

for very large skylights or windows
The motors can be controlled with our multi-channel hand held or wall mount wireless remotes
Our BroadLink hub can also be used - control with any Android or IOS or phone and tablet app
Our

Z-Wave

controller can also be used with any Z-Wave hub such as SmartThings, Vera, Wink, etc.
Voice control products such as

Alexa

and Google Home can also be used (requires smart home hub, as above)
Frame Width: 2.1 inch (53 mm), Frame Depth: 1.3 inch (34 mm)
Max/Min WIDTH: Minimum: 9.75 inch (25 cm) Maximum: 48 inch (120 cm)
Max/Min HEIGHT: Minimum: 11.75 inch (30 cm) Maximum: 118 inch (300 cm)
ShadeSlider™ Cellular Fabric Colors & Frame Colors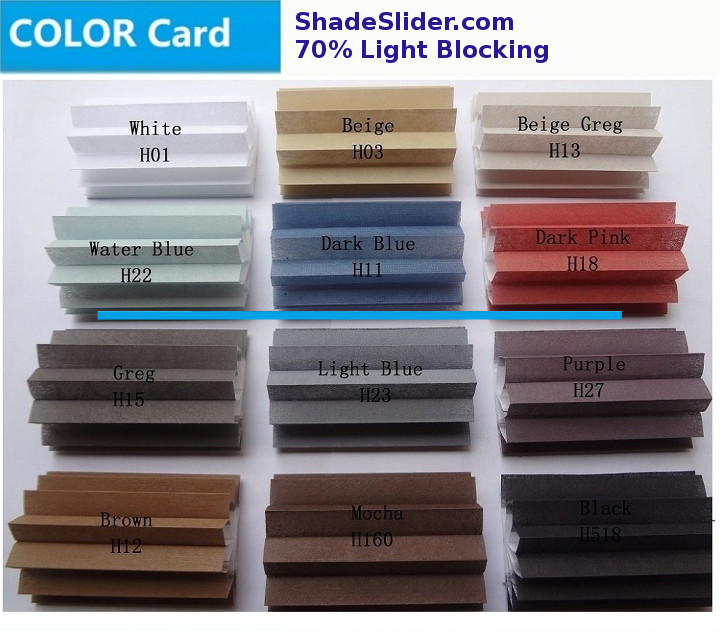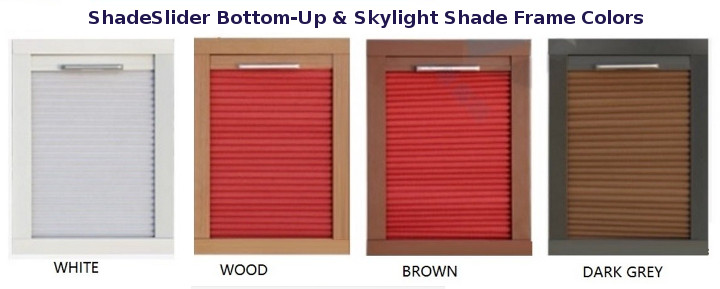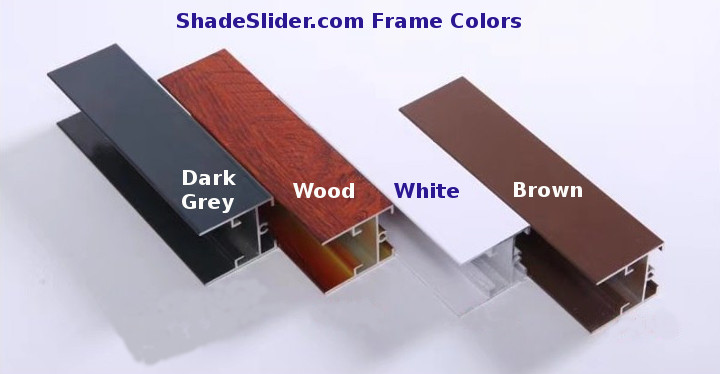 We sincerely hope you enjoy using these advanced motors; if you have any questions or require pricing, please feel free to contact us at any time!
Articles Series: Setup of the ShadeSlider™ Kit
Part 1: ShadeSlider™ Bottom-Up Blind & Skylight Shade: Component Layout, Motor Drive System
Part 2: ShadeSlider™ Bottom-Up Blind & Skylight Shade: Cloning Motor to Existing Remote
Part 3: ShadeSlider™ Bottom-Up Blind & Skylight Shade: Frame Assembly, Drive Shaft Setup